Sacla No.1 Classic Basil Pesto
(£1.97/100 g)
190 g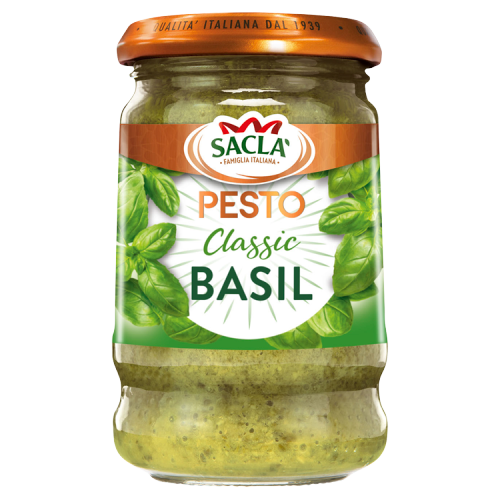 Disclaimer / Additional Info
Our No.1 Classic Basil Pesto is made with fresh basil grown in the warm Italian sunshine, Italian cheeses and pine nuts. Perfect for pizza toppings, garlic bread, king prawn linguini and chicken tagliatelli.

WE'RE DONATING 1P FROM EVERY JAR OF SACLA' PESTO we sell to The Natasha Allergy Research Foundation to help fund their work to Make Allergy History.

Truly, madly, deeply Italian food is a way of life for Sacla', and we're proud to be the 'Pesto Pioneers' who first brought Pesto to the UK. We've been making real Italian food with care, flair and love for three generations, and are still owned and run by the same family. Having always been devoted to creating authentic Italian products, our recipes are made with the freshest ingredients, respecting the seasons, and using local produce wherever possible.